Online Sales & Marketing
software for growing businesses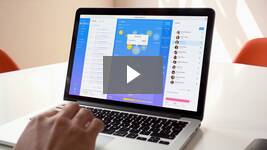 Watch our overview video.
Discover SalesSeek in 2 minutes.
Empower your team.
Grow your revenue
Our design-led platform provides Contact & Deal Management, Email Marketing & Automation, Forecasting, Task Management, Web Analytics, and Social Monitoring in a fresh and visual web application. These tools are combined with action-oriented visualizations and Dashboards.
Scale your revenue generation with insight into relationships and the tools needed attract, and engage a growing customer base.

"SalesSeek is fantastic. It's been two weeks and we're already getting way more visibility than we could ever get with SalesForce."
– Steve Swindon // BaseMap

Just wanted to say thanks to @SalesSeek and @PeterJSmall. Best CRM around by far for us creative types. Visual client management tool FTW.

We use @SalesSeek Multi-Funnel and it is a huge improvement! It looks great. Can't wait to see what comes next!
The one-stop-shop CRM. Built for growing SMEs